Posted On 20 Ago 2018
Looking for a Mariachi in Medellin?
If you are looking to hire a Mariachi in Medellin you are in the right place. We are Mariachi Hernandez and we are ready to help you. Contact our English Hotline right now at:
Tel. 305 307 6505
Our group is one of the most experienced Mariachis in Medellin, with more than 15 years of service in this city. Mariachi Hernandez is well referenced among most lovers of Mexican music in this city and its surrounding area. Throughout our career we have entertained all kinds of social and business events in Medellin and surrounding municipalities. We have played at birthday celebrations, welcome and farewell parties, anniversaries, weddings, engagement parties, mother's day and father's day gatherings, among many others.
Why choose us among other Mariachis in Medellin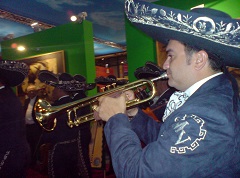 In addition to offering a complete show of Mexican music, we are well known in the city of Medellin for our violin show, which is very much desired by our customers. Our repertoire is very complete and varied, always meeting the standards of musical quality that characterizes us.
Our Mariachi in Medellin is fully committed to offering all our clients serenades and presentations of very high quality and excellent variety. The Mariachi Hernandez is known for its youthful talent, excellent ranchera performance and especially for our interpretations of the songs of the famous Mexican singer Juan Gabriel.
Mariachi Hernandez of Medellin
Our mariachi was founded by its director Adrian Hernandez, who is a faithful lover and interpreter of the best of Mexican music. His experience as a musician in various groups of mariachis in Medellin is very long, among the other mariachis he has been a part of, is the famous Mariachi Juvenil Mexicano. After his long career he establishes our Mariachi Hernandez, to offer his expertise and dedication in the Antioquia region with fresh young and experienced talent. Check out our talent in the following video:
The Story behind Mariachis
Mariachi Hernandez is proud to be one of the first interpreters and promoters in Medellin, of a musical expression that goes back at least to the XVIII century in traditional western Mexico. Bearing in mind that the music of Mariachi is a tradition that is usually represented by several socio-musical factors: instrumentation of strings and winds, musical genres and subgenres that have been maintained over time, methods and styles of interpretation very similar, styles and forms of singing coming from the Mexican tradition, diverse styles of dance, elegant and striking costumes, and the word «mariachi» which is the same in all languages.
Contact Us today: Tel. 305 307 6505
Working from our headquarters in Medellin, our Mariachi Hernandez has played the best of Mexican music at social and business events throughout the metropolitan area for more than 10 years. We have a youthful and experienced mariachi, composed of nine excellent and talented musicians. We focus on making any event a memorable experience for all attendees. We are one of the most recommended musical groups for people that want to hire a mariachi in Medellin.